Adding New Themes using the Administration Screens
You can download any theme from WordPress Theme Directory directly to your site by using the Add New option in the Appearance sub-menu.
Log in to the WordPress Administration Screens.
Select the Appearance screen, then Themes.
Select Add New.
Either use the Search or Filter options to locate a Theme you would like to use.
Click on the Preview link to preview the Theme or the Install link to upload the Theme to your site,
Or use the Upload Theme button at the top of page to upload a zipped copy of a Theme that you have previously downloaded to your machine.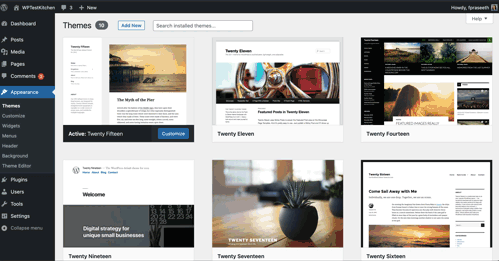 When the Theme is already downloaded but not activated Live Preview option will give you preview of your site with your own, existing content.
If your host offers the cPanel control panel, you can use its Upload option to upload the Theme files to your site. For this you will need Theme files in an compressed archive (.zip or .gz).
Download the Theme .zip file to your machine.
In cPanel File Manager, navigate to your Themes folder. Depending on your hosting, path to Themes folder can differ a bit but essentially you are looking for public_html inside which you'll find /wp-content/themes/.
Once you're inside the Themes folder in cPanel File Manager, click on Upload and upload that .zip file you saved in Step 1.
Once the .zip file is uploaded, right click on the name of that file in cPanel and select Extract from the context menu.
When Theme files are successfully extracted, follow the instructions below for activating the new Theme.

Adding New Themes Manually (FTP)
To add a new Theme to your WordPress installation via FTP protocol, you'll need FTP client and extracted Theme files.
Download the Theme archive (.zip) and extract the files it contains. You should have a folder named as theme itself, containing theme files.
Using an FTP client to access your host web server and navigate to /wp-content/themes/ directory.
Upload the Theme folder to this directory on your host server.
Follow the instructions below for activating the new Theme.